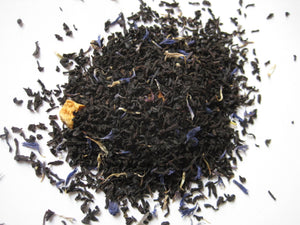 Beans Teas & Other Things
Earl Grey Supreme - 2 oz.
Regular price
$6.00
$0.00
Earl Grey Supreme is a grand take on a well-loved classic for those who enjoy the timeless duet of tea and bergamot citrus. Blended with full-bodied Ceylon tea for body and boldness and rich Keemun to soften the edges and let the citrus shine. Then we added an extra splash of bergamot with sprinkle of Silver Needle white tea buds to add complexity and a delicate touch of white cornflower to further gild the lily. Earl Grey lovers, this next level tea is for you!
Black Tea | High caffeine | Steep at 212° for 3-5 minutes.
---
More from this collection