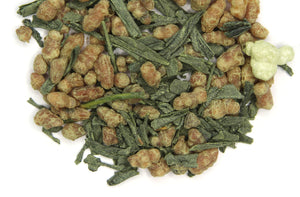 Beans Teas & Other Things
Matcha Genmaicha - 2 oz.
Regular price
$8.00
$0.00
This Japanese classic blend of Genmaicha and Matcha is a comfort food all its own. The toastiness of our sencha and roasted rice genmaicha with our gently grassy, Uji-grown matcha make for a rich and complex vibrant green cup. Warming, relaxing yet energizing, it is the perfect meld of umami and vegetal notes. A gentle introduction to matcha for those who are hesitant, and a welcome addition to our Japanese tea collection.

Green Tea Moderate caffeine
Steep at 180° for 2 minutes.
---
More from this collection